HOW TO CARE FOR: AIR PLANTS (TILLANDSIA)
LIGHT
Most air plants are native to very tropical, bright environments. They require a lot of bright light!
These plants will do best in or near a window; preferably east or west facing (although some can tolerate a bit of direct sunlight, in which case a south facing window is ideal). If these conditions cannot be achieved with natural light, introducing artificial light (a grow light) is recommended.
WATER
Air plants (Tillandsia) absorb all their water through little cup-like hairs on their leaves! These are called trichomes. In general, the more trichomes a plant has, the less it needs to be watered due to the amount of water absorption.

In order to ensure your plant is receiving enough water, we recommend the soaking method. Fill a bowl or sink with room temperature water and let your air plant float around for about 30 minutes ONCE A WEEK. The number one cause of death for an air plant is over watering. This happens when water gets trapped inside the plant and rots it from the inside out. To avoid this, place your plant upside down on a towel directly after watering to let your plant dry.
PET SAFETY
Although tillandsia are generally considered non-toxic to pets, we do advise caution. Air plants can be seen as a toy to many pets (especially cats) and can be a choking hazard if found by your furry friend.
FOR A DETAILED LIST OF TOXIC PLANTS, VISIT THE LINK BELOW.
SPECIAL CARE:
SOME AIR PLANTS REQUIRE SPECIAL CARE TIPS, CHECK BELOW FOR MORE IN DEPTH CARE FOR SPECIFIC AIR PLANT SPECIES.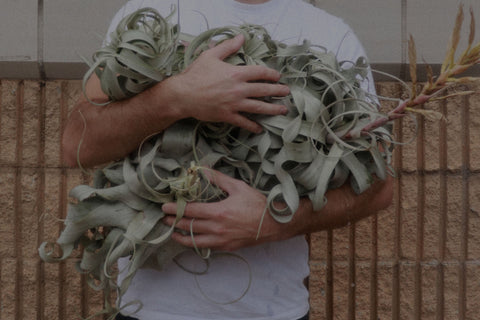 TILLANDSIA USNEOIDES (SPANISH MOSS)
Spanish moss can be intimidating! But dont worry, caring for it is very similar to caring for any other air plants!
These plants require a lot of bright, but not direct sunlight and should be soaked roughly once a week. However, due to the Spanish Moss' long, hair-like form they risk drying out much faster than other tillandsia. Because of this, we suggest a longer soak time; about 1-2 hours a week.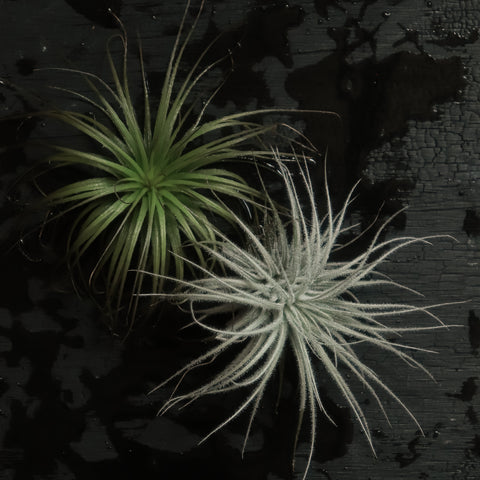 TILLANDSIA TECTORUM
Like Xerographica, Tillandsia Tectorum are native to a more arid climate amongst cacti and succulents. Caring for Tectorum is similar to any other air plant but they do have some differences.

Give your Tectorum a lot of bright light and if possible direct sunlight. The large trichomes on this plant (the visible fur) allow them to protect themselves against harsh light and thrive in hot conditions. Place this tillandsia in your favorite south facing window.

Tectorum don't require as much water as other tropical air plants. The soaking method (30 mins) is still preferred but you can skip a week with this one! If you prefer a weekly schedule, dunk your plant in water for a few minutes each week!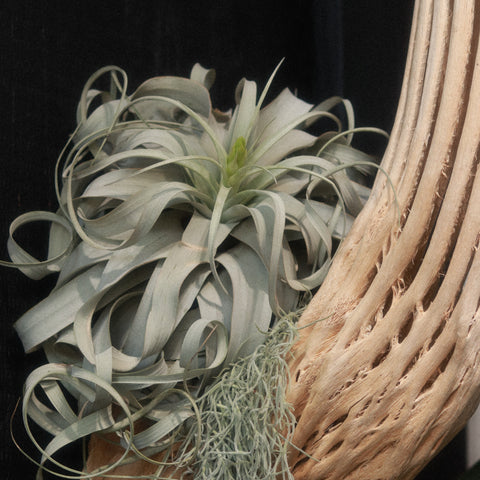 TILLANDSIA XEROGRAPHICA
Xerographica are one of many air plants that actually grow in more arid climates rather than tropical! Because Xerographica are naturally used to drier climates, these plants can can take a bit more direct sunlight and less water.
We suggest watering this air plant every other week (soaking in a bowl of water for roughly 30 mins) and placing it in a space where it can receive as much light as possible; a south, east, or west facing window is preferable.
TILLANDSIA STREPTOPHYLLA
Streptophylla are a part of a group of air plants referred to as "Xeric", meaning they are typically found in drier, arid climates amongst cacti and rocks. They get their muted, green color from the abundance of "trichomes" on their surface. Trichomes help air plants collect the moisture and nutrients they need to survive!

Give your streptophylla a LOT of bright light. A southern facing exposure is preferable. Because of the plants trichomes, they can tolerate some direct sun.
Streptophylla have a pseudobulb base; meaning they are bulbous and hollow; this increases their risk of trapped water causing rot. We suggest just dunking this plant in water once a week or every other week depending on the amount of light they are receiving.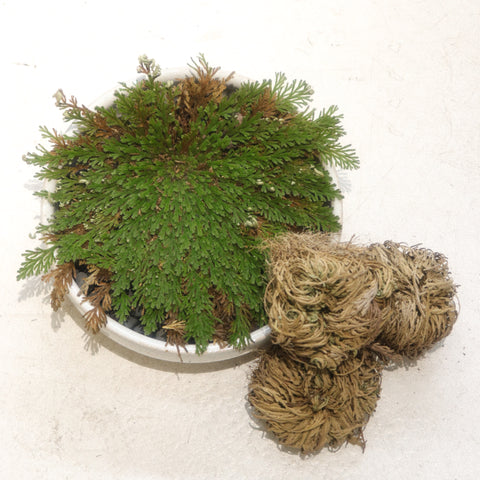 SELAGINELLA LEPIDOPHYLLA (RESURRECTION PLANT OR ROSE OF JERICHO )
The Resurrection Plant is a type of spike moss that can tolerate severe dehydration, making them appear dead when they dry out/go dormant. In its natural habitat, the Resurrection Plant forms a tumbleweed when dry and gets blown around the desert; resurrecting once it encounters moisture!
Caring for these plants is fairly simple. We suggest placing the plant; roots down; in a shallow dish of water with pebbles. As the plant absorbs the moisture, it will unfurl and become green again! Be sure to give your plant fresh water every day or so to avoid algae or mold. If you wish to keep in resurected for long periods of time, be sure to allow it to dry out for at least a day every week. Remember, it's natural for this plant to experience long periods of drought. Do not keep it resurrected indefinitely as it will rot.
A common mistake when caring for this plant is not providing any light. Although these plants do not need any light while they are dormant, it is best to give them a lot of bright, but not direct light when resurrected.