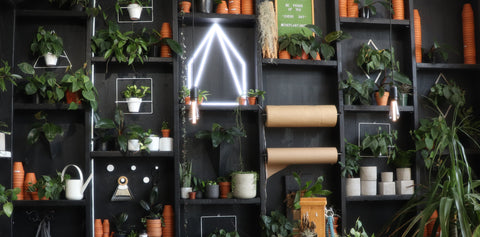 OUR IN-STORE RETURN POLICY
At The Plant House, we offer easy returns in the form of store credit within 30 days of purchase. 
-We do not offer refunds in the form of cash or credit to your original payment method.
-Returned items must be in new, unused condition and presented in original packaging.
-Quick exchanges can be processed at the discretion of our staff—example: swapping the same size and style of planter for a different color.
To process a return:
-Check the date of your purchase to ensure your return falls within our 30-day allowance.
-Bring the item(s) you'd like to return to our store —yes, even plants.
-Provide proof of purchase: digital receipt.
-You will receive a gift card loaded with your exact refund amount.Gift cards have no cash value and do not expire.
Please note the following exceptions to our return policy:
-Discounted / clearance items marked final sale.
-Damaged or used items.
-If you received complimentary repotting services at our Plant Bar, those custom plant & planter combos are final sale.
FREQUENTLY ASKED QUESTIONS:

Q: What if I declined to receive a digital receipt or deleted my txt/email?
If you are a loyalty member and checked in at the time of your purchase, we can look up your receipt using your phone number.If you paid using credit or debit, we can look up your receipt using the last four digits of your card number.If you paid with cash and opted out of our loyalty program, we cannot look up your purchase.

Q: The plant I had repotted at the Plant Bar is dying. Can I return just the plant? 
Our repotting services are intended to set you up for success. With that said, if a plant we repotted has clear signs of any health issue that is not the result of over or under-watering, we can process a return for the plant only.This includes: foliage pests, soil pests, fungal diseases.This excludes: root rot (over-watering) and dried-up, crispy foliage (under-watering)Please provide receipt details and photos within 30 days of purchase by sending an email to hello@theplant.house.We will follow up with our determination and next steps if your plant qualifies for a return.
Q: My plant might have a pest issue. Can I return it?
With the exception of plants that have been repotted at our plant bar, we accept plant returns for any reason within 30 days of purchase.After 30 days, we cannot accept plant returns but can help diagnose plant-health issues you might be experiencing.You may provide photos by sending an email to hello@theplant.house or can DM us on instagram @theplant.house.

Q: I purchased something over 30 days ago and it's still in new, unused condition. Can I return it? 
Sorry, we do not make exceptions to our return policy beyond our 30 day window.

Our Online Return Policy: Coming Soon.
We are an independently owned and operated small business that values quality over bargain and relationships over revenue.  Thank you for respecting our policies.  We strive to meet our customers' expectations by providing quality plants, products, and customer service.  If you are ever dissatisfied with your in-store shopping experience, kindly send us an email to hello@theplant.house so we may attend to any issues you've encountered.