HOW TO CARE FOR: SUCCULENTS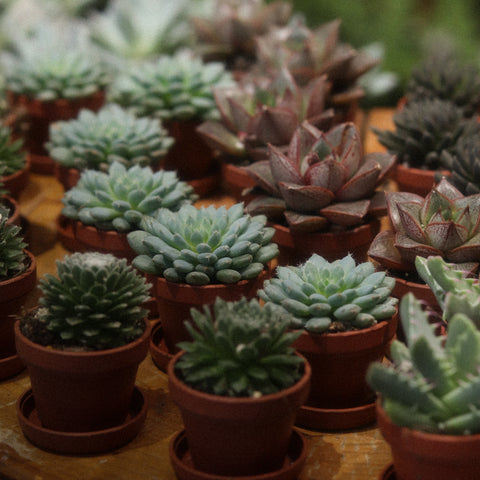 LIGHT
Most succulents; like cacti; are native to very arid environments. Because of this, they prefer a lot of sunlight and can tolerate periods of drought.
Place succulents in the brightest possible light within your home. A South-facing window is ideal. If these conditions cannot be achieved with natural light, introducing artificial light (a grow light) is recommended.
WATER
Allow the potting medium (soil) to dry out completely between waterings in order to prevent root rot. Once the potting mix is completely dry from top to bottom (and only then!), water thoroughly. Allow the water to soak in until the potting mix is saturated, then wait until it's completely dry to water again. 

Bottom watering (placing the plant in a dish of water and allowing its soil to soak up water through the bottom drainage hole) is an excellent method to water any succulent because the dry potting medium often prevents water absorption when top watering. This phenomena is referred to as "hydrophobic soil."

Cacti are succulents, and succulents have evolved to require a dry period. However, when it's appropriate to water, completely soak the potting mix. Recreating this rhythm of drought and downpour is key to caring for succulents - including cacti. Furthermore, watering a succulent with an ice cube or just a trickle of water will lead to stunted growth and malnutrition over time. 

Watering frequency should be reduced during winter months when slower growth or dormancy occurs. Additionally, sunlight is not as intense, and the potting mix may take longer to completely dry out.
POTTING MIX
Succulents often grow in very dry, sandy environments. Use a coarse, very fast draining cacti/succulent potting mix. 
You can find our house-blended potting mix here (LINK ITEM)
When repotting any succulent, including a cactus, selecting a planter with drainage (a hole in the bottom for excess water to escape) will make watering much simpler and will help the plant stay healthy.
PET SAFETY
Although succulents are generally considered non-toxic to pets, we do advise caution. Spikes are sharp. ALSO highly-toxic Euphorbia are oftentimes mislabeled as cacti/succulents because of similarities in appearance.

FOR A DETAILED LIST OF TOXIC PLANTS, VISIT THE LINK BELOW.